Cogo Interactive is excited to announce that we were ranked as one of the top B2B Companies in Washington DC by Clutch.
Clutch is a B2B ratings and reviews site also based in Washington, DC. They use market research and verified, validated reviews of a company's work to rank businesses in categories according to their service focus and location.
One of the most important factors that Clutch takes into consideration is the reviews it collects from a business's clients. They conduct in-depth interviews with clients, getting honest feedback on the quality of the work and the working relationship.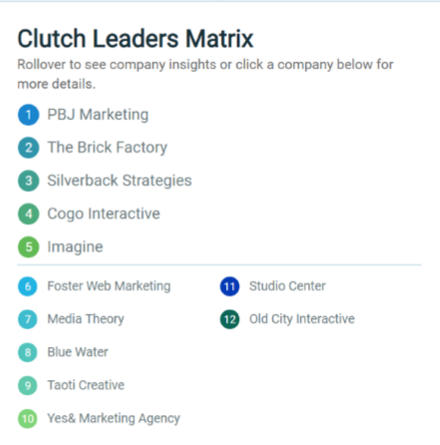 This means that our success is due, in large part, to the kind words of our clients. The reviews from all eight of our reviews are available on our Clutch page, but we wanted to include a few of our favorite quotes here.
There are no downsides to working with them. They address small issues immediately and ensure that same problem doesn't happen again.
They're responsive and keep us on task. If we encounter any issues, they're quick to address them and offer good suggestions.
The breadth of their skills is impressive. They don't just know web design or SEO. They are well-versed in graphic design and are able to advise content decisions.
Clutch also has two sister sites to help buyers identify leading B2B service providers. The Manifest is a site designed to give potential customers the ability to quickly browse businesses and look at their pricing, bios, and a few of their past clients.
We were also included on the list of top DC SEO agencies for our excellent marketing services as well as a project we did with a conflict resolution company.
At Cogo Interactive, we know how essential success in the online marketplace is to a company. That is why we are proud to have had so many of our clients take the time to talk to Clutch. Our clients' support means everything, and we can't wait to continue to do the best work possible for our clients.
Cogo Interactive is an award-winning digital marketing agency specializing in online marketing strategy, web design, SEO and social media marketing. We work with clients in Virginia, Maryland, Washington, DC and nationally.