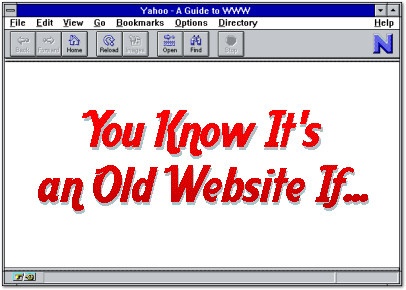 Is my website mobile-friendly? When should I update my website? How old is too old?If you had your website created five years ago, but are not sure if it is outdated now then check your website's "score" on https://website.grader.com. Enter your URL and email address, and press go. The website above (a.k.a. Marketing Grader or Website Grader) will give you an overall score for your website, based on five categories:
· Blogging
· Social Media
· Search Engine Optimization (SEO)
· Lead Generation
· Mobile.

Each section has a checklist of items as well as grades for individual aspects of the category.
Reviewing your business goals and strategies each year should also include adapting your marketing and online strategies for new technologies and trends in the online marketing industry.
Consider the growth of mobile devices and customers' usage when it comes to getting information and making their buying decisions!According to Knowledge Networks, tablet users spend more than half their tablet time accessing social networks, games, and search engines, while they are out shopping, at work, or sitting in restaurants.
For YOUR MARKETING STRATEGY to remain relevant, you need to consider that your target market, in terms of tablet users, is looking for information right now, at their exact location!It is certainly worth trying to build in some marketing for mobile users.
Is your business due for a strategy overhaul or even just some minor website tweaks? It is generally best to update your website if it is not user-friendly, mobile-friendly, or if it is more than 7 years old.
TIP: Check your analytics, whether it's Google Analytics or something else, and figure out what people are doing on your site. What keywords are bringing in traffic from Google? What pages are visitors hanging around on a while and which pages are they bouncing from? Use this data to inform your priorities and next steps.
Combining all the aspects of online marketing can be complicated, but if you review your online marketing strategy regularly each year and update your tactics, then you will see positive results that will encourage you to learn and try even more ways to get your message out there and bring customers your way.
This blog was written by our staff writers. If you are looking for a solid inbound marketing strategy, contact us today for a free consultation, we are here to help! Follow @cogomojo on Twitter, the COGO Interactive Company Page on LinkedIn, and subscribe to our blog, for more tips and resources. Thank you for reading! Your support is very much appreciated.