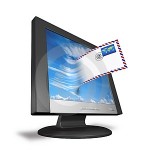 If e-mail marketing is an essential part of your online strategy, then having the right autoresponder service is also essential. As switching autoresponders is such a pain and can cause you to lose a lot of subscribers, it's important to do your research first before you commit to a service.
AWeber
AWeber is pretty much the go-to name in autoresponders. Their list of features is impressive, as is their base price of $19 per month, but the tricky part is what happens when your subscriber list grows. The first 500 subscribers are included in the price, but for larger lists of 10,000 or more, the additional monthly fees can drive your cost up to nearly $150 a month. They do have a $1 30-day trial, though, so you can try the service out for virtually no risk.
MailChimp
What MailChimp has going for it is superior design tools, so if the look and feel of your emails is important, this might be the service for you. On the down side, there is no phone support like with AWeber, and affiliate marketing is not allowed. MailChimp is mostly free if your subscriber list is under 2,000, but autoresponder management does not come included with the free version of the service.
Constant Contact
Constant Contact is probably the most comparable to AWeber in terms of features, but is scaled up to attract larger businesses, whereas AWeber is more for single-person marketing efforts. There is more of a learning curve with the Constant Contact system than there is with AWeber, but not ridiculously so, and if your company is going to be a power user with huge subscriber lists, Constant Contact may be the better choice for you.
1ShoppingCart
The main advantage to 1ShoppingCart is that it provides an all-in-one e-commerce solution. As the name suggests, their main product is a shopping cart, along with affiliate features and delivery of paid digital downloads. As such, their autoresponder add-on service is more of an afterthought, so if the autoresponder itself is the thing you're most interested in, 1ShoppingCart may not be right for you. However, if you really need an integrated online shopping system that includes an autoresponder, then this is definitely an easier solution than purchasing the various services separately.
In short, AWeber is good for most, but for small subscriber lists where cost is a factor, MailChimp is a reasonable and affordable choice. Larger companies with a lot of subscribers may want to go with Constant Contact, and those looking for an integrated e-commerce solution will want to give 1ShoppingCart a try.
Do you have an autoresponder service you use? What are its pros and cons?
—
Peg McDermott is an award-winning marketing communications expert, Internet marketing specialist, and public speaker. Peg is the founder and president of COGO Interactive, an innovative Internet Marketing firm specializing in helping small to mid-sized businesses increase revenue and awareness by leveraging Social Media Marketing and Search Engine Optimization. She can be found on Google +, Twitter, and Linkedin.
Find her on Google Plus, Twitter, and LinkedIn